This painting has been one of my most perplexing...
I've been working on it for about 20 years. It's always had something to do with the temptations involved in living life in a body, I think. I've never been sure if I was painting about virtue or vice though. It seems to be about both.
When searching for images of allegorical figures of virtues and vices in medieval art, which I think were among the things I had at the back of my mind as I worked on this painting, I found this painting Dance of Death...
The figures in this painting reminded me of the odd little dance my figure is doing, in a state that seems to be somewhere between life and death.
Here is a detail of an earlier state of the painting (it's always interesting for me to look at earlier states of my own paintings, since my paintings usually develop over long periods of time and go through many phases), which I think gives the impression of someone straining both with and against their sensual and physical nature, much the way some of Michelangelo's characters seemed to do...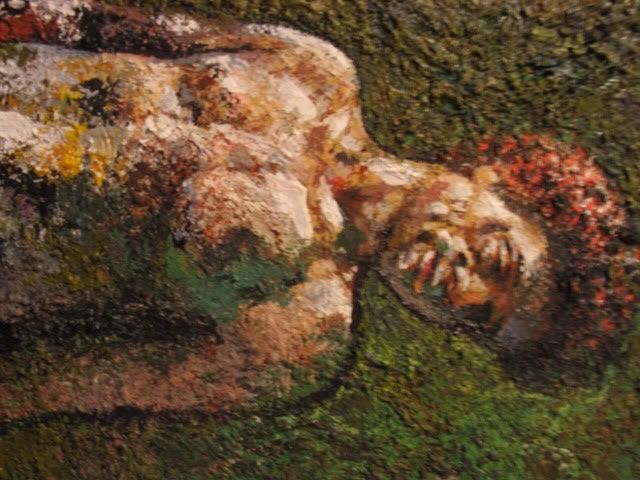 Seeing my picture (older version) as a whole puts the story of the individual's struggle and relationship with the sensuality of his body and physical existsence in the larger social context of duty; the man is, I feel, protectively walking with a child, likely his son ...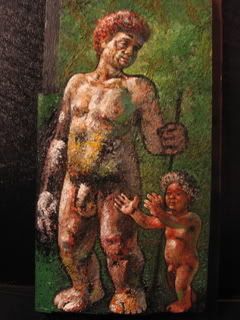 The child is reaching out, starting his own journey, reaching out with/towards his own aspirations, perhaps striving to his elder behind, as the young ultimately do. The man seems rooted, while the child seems ready to burst forward.
In it's current form ...
I think that my painting is partially inspired by
Andrea Castagno
's painting of David ...
I did not really think of the connection until after I had gone a long way with my painting, but it seems obvious to me now. I think that the Castagno painting is turned upside down in my painting in some ways. The dark, cloud-scudded sky in Castagno becomes a dark water with rivulets in my painting (hard to see the rivulets in my photo though, the little whitecaps) and where Castagno's David is triumphant and sure of himself, my character seems doubtful and a bit lost, 'at sea'.
As I continued to work on my painting, I thought of Birth of Venus
by Botticelli
...
That is what inspired me to add the shell at the bottom. The pink bird was there already and made me think of the nymph who is flying in from the right hand side of Botticelli's painting, with a pink cloak to cover her nudity. What is so interesting about Botticelli's Venus is that she seems to be a young woman who might be coming into the full glory of her sexuality, but this seems to be connected with becoming very self-conscious about her body, and even ashamed. I feel that that is part of what is going on with my young (or not so young) man. He is not 'perfect' the way that Botticelli's Venus is. He seems quite ordinary. But my sense of him is that he is sensing his own beauty and feeling bodily shame at the same time. Perhaps the body begins to feel like a shell that carries the soul, or the spirit, sometimes comfortably and sometimes uncomfortably. Perhaps if one balances passion with good sense, one can keep one's balance, but one might be pitched overboard if one gets carried away, or if the seas become too rough.
As always, I'm not quite sure what my painting is about, but these are some thoughts I have about how it has developed...